Rocking the roof – free curbside concerts are back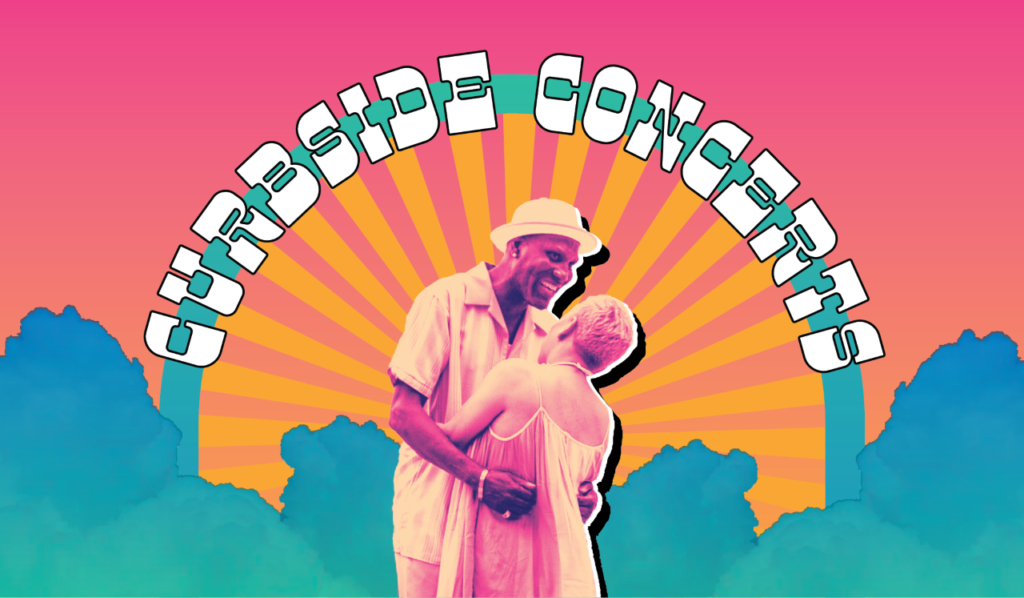 Curbside Concerts this spring are all about reunions.
How about some bands you haven't seen in a while? What about meeting up with some old friends? Maybe winter was just too long and a little sunshine and starlight will do you good. Or it could be you've just been craving That Guys Gourmet Ribs and Hotdogeddy's.
Well, Elkhart Public Library will be the place for some happy reunions. It all starts Friday, May 12, and runs through Elkhart Jazz Festival weekend in late June.
The Curbside Concerts schedule, with all Friday shows starting at 7 p.m.:
• May 12 – Shiny Shiny Black with special guest Anna p.s.
• May 19 – Kansas Bible Co.
• May 26 – Society's Child
• June 2 – Joe Baughman and the Righteous Few
• June 9 – High Gravity
• June 16 – Gretchen's Revenge
Then, for Elkhart Jazz Fest weekend, a little modified schedule and some funky late shows:
• Friday, June 23 – Dylan Tolbert (approximately 7:30 p.m. start) and Bumpus (10 p.m.)
• Saturday, June 24 – Lalo Cura (approximately 7:30 p.m.) and Empire Strikes Brass (10 p.m.)
The musicians
Curbside Concerts this year will be powered by AEP and "Well Crafted" with the support of the Elkhart County Convention and Visitors Bureau.
We're kicking off on May 12 with a great reunion of local musicians. Shiny Shiny Black, featuring Amber and Nate Butler, bring a roots rock vibe to the library rooftop stage. Anna p.s. was a founding member of SSB, but she's taken her own successful path for a decade as a solo artist. These great friends have made a few appearances together, and EPL is the next place to catch them.
It's probably been a minute since you've seen Kansas Bible Co., Society's Child and Gretchen's Revenge together, too.
Kansas Bible Co. (May 19) hasn't played a lot of shows since the pandemic, but this rock group's credentials are well known from here to Nashville.
Society's Child (May 26) is a high-octane band that came back together in 2022 after a nearly 30-year break. They've added some originals to the mix, and you'll probably hear favorites from KISS, Ozzy and the Beastie Boys.
Gretchen's Revenge (June 16) has played a very limited schedule of community fundraiser events in the years since they were The Band to see in Michiana. Elaine McCann, Steve Beyeler, David Denliger, Justin Kilmer and Frank Leftwich take on everything from Coldplay to Cheap Trick, Fleetwood Mac to Alanis Morissette.
And the middle of the spring schedule has our house favorite, High Gravity (June 9), and a band you will want to see again and again, Joe Baughman and the Righteous Few (June 2).
We'll have more to say soon about our Elkhart Jazz Fest parties, but circle the dates for June 23 and 24.
The food and the other things to know
As always, these concerts are free. Bands play on our roof, so bring camp chairs and watch from our parking lot. We sell beer, wine and soda – ask the bartenders, and they'll probably get you the library book you've been wanting, too.
And what about the food?
That Guys Gourmet Ribs will be our food vendor for two Fridays early in the schedule, May 12 and May 26, as well as all of jazz fest weekend, June 23-24.
Hotdogeddy's will be selling May 19, June 2 and June 16. And the Las Patronas food truck will be here June 9.
The library parking lot will be fenced and open to all ages (only the marked alcohol sale area is 21-and-over). Parking is available on the street or in nearby municipal lots. Musicians may bring merch to sell, and the library accepts cash and card.
In the event of rain, we move the music indoors to the library atrium. Doors will open at 6:30, and the bar will be available inside.