Become one of our Friends
Volunteers with a purpose
Friends of Elkhart Public Library operates for charitable and educational purposes. The Friends oversee the sales of used library books, take on special events and projects, and provide funding for unique initiatives beyond the library's tax-supported operating budget.
Sign up with your information below or download the membership form.
Become a Friends Member
Sign up to become a Friends of Elkhart Public Library member.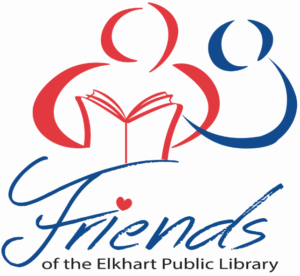 First Saturday Book Sales
Sale events are postponed currently due to the public health situation. Each library location does have a limited collection of items for sale during all open hours. 
Monthly specials are listed on the Friends' Facebook page. Generally, all varieties of books are represented, with CDs, audiobooks, DVDs and more on sale as those items become available. Select books and other materials may be purchased from designated bookcases at each library location during regular business hours. For more information, please ask at the checkout desk.
Upcoming Meetings
The Friends generally meet monthly on the lower level of the downtown location at 6 p.m. on the second Wednesday of the month. Current elected officers are:
President – Doug Mulvaney
Vice President – Libby Eisele
Secretary – Teryl Yoder
Treasurer – Gayle Windsor
Nominating Committee chair – Jim Todd