Meet the Blooze Brothers and come to the party

True to the plot of the namesake movie, it was supposed to be a one-night-only event. 
In the early '90s Chuck Little and his ex-brother-in-law, John Aguila, were going to a Halloween party and needed costumes. Finding black suits, hats and sunglasses seemed easy enough, so they decided to go as the Blues Brothers.
At the party, they used an old backing track cassette and performed some of the duo's iconic songs from the movie and Saturday Night Live skits.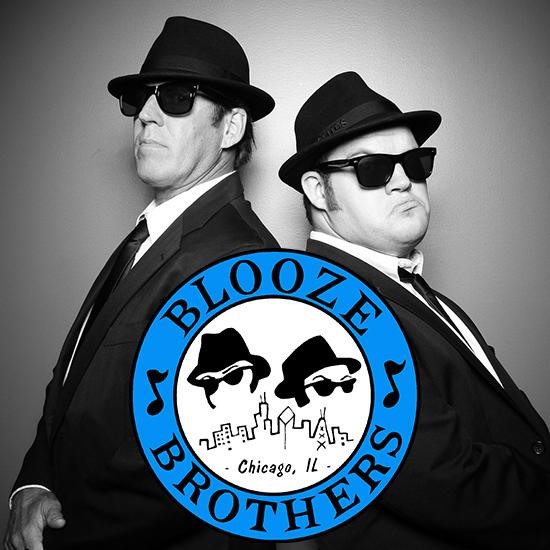 "We turned something that was a spoof and kept escalating and taking it to the next step," says Chuck Little, the Elwood of the group, from his suburban Chicago home.
On Saturday, Oct. 23, Little will bring his tribute band Blooze Brothers to The Lerner Theatre for a one-night only event. They'll take the stage and perform at 8 p.m. following an enhanced screening of the 1980 classic movie, The Blues Brothers, that starts at 5.
They were such a hit at the party that, pretty soon, they were booking other gigs with that same backing tape. They performed at weddings, festivals and corporate events.
Little says their reputation grew and they decided to take it to the next level. They again borrowed a line from the cult classic.
"We should put a band together," he says of the process.
As luck would have it, they didn't need to go far. In a local music trade magazine, they found exactly what they were looking for.
"The ad said, 'Blues band seeking our Jake and Elwood,'" remembers Little.
"That was basically the start, in 1992," he says. "One thing's led to another, we would lose a member and we are able to fill it with the most talented musicians in the Chicago area."
Aguila retired in 2016 and Chuck's Jake is now Kevin Pollack.
The Blooze Brothers are the premier tribute band and play over 50 shows a year. They've even played prestigious events, such as Chicago Bears and Blackhawks games and even at President Barack Obama's second inauguration.
According to Little, the band has stayed on top of their game by branching out from the source material, which amounts to roughly the movie soundtrack and one album. They add in upbeat pop songs from classic and contemporary artists.
"We try to do high-energy, fun music, (such as) Bruno Mars … Tina Turner, Aretha Franklin, Alicia Keys," he says. "Just fun party stuff."
When the audience hears the band take the stage at The Lerner on Oct. 23 they can expect a high-energy, fun show played by real musicians.
"One thing we take pride in, everything that they hear is live. There's no recording or backtracking or electronics. It's gifted musicians," says Little.
And, of course, the Bluesmobile will be on site, too.