Book giveaways surpass 5,000 with addition of Book Bus
This year, Elkhart Public Library has put 5,300 books into the hands of children throughout the Elkhart community.
Free Books to Feed Minds returned for its third year, with support from the Friends of the Elkhart Public Library and Crossroads United Way. The giveaways grew more fun this summer with the addition of the Book Bus. 
>> This Giving Tuesday, Support The EPL Book Bus And Free Books For Children – Learn More <<
Refreshing the library's delivery van to become a mobile book giveaway station allows an inviting space for kids to pick out a book of their own to take home with them and read over and over again.
Andrea Torres, EPL's audience development coordinator, says the Book Bus allows the giveaways to reach more communities and carry more Spanish and English books for young bilingual readers.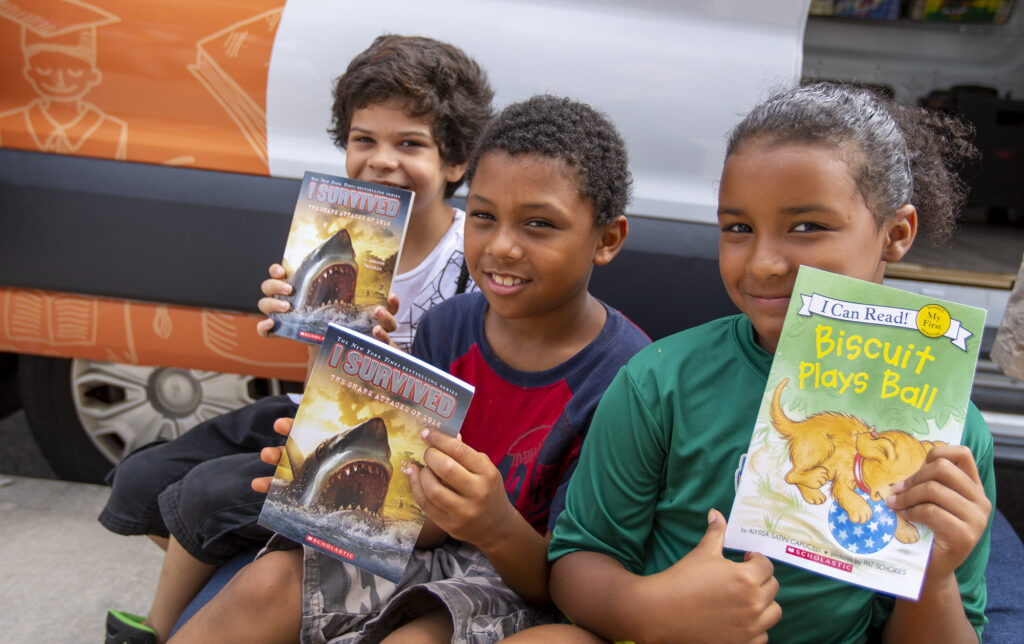 "Giving back to the community that I'm a part of, it's a way to invest in their future," says Andrea. "Something as simple as giving out a book for free to someone, even a gesture that small, is very meaningful. It's going to have a big impact later on with the children's literacy and reading success in school. I'm thankful that I can be a part of that."
Two large beanbags made for a fun place for kids to hangout and read their new books right outside the van.
The Book Bus makes the library mobile enough to roll up to any community event and give away books with little setup.
That mobility allowed EPL to partner with other organizations for giveaways at the Elkhart County 4-H Fair, Concord schools, and the Boys and Girls Club of Elkhart. The Book Bus appeared at other local festivals and events, too.
Plans are already underway to focus on continuing giveaways and making sure every child in Elkhart and beyond has books of their own to read. Click here to learn more about how you can help.