Growing Readers to be confident and successful
Leo Garcia's mom could see him struggling to read. His teacher called with concerns.
Gabriella turned to the library for help.
"His teacher reached out to me to say that he needed to be at a certain reading level before third grade," she says. "I think the whole COVID situation had left him behind."
As a worried parent, she registered Leo for the new Growing Readers program after seeing it on Elkhart Public Library's Facebook page.
Sonya Overman, a 30-year educator hired into EPL's Young People's Services Department, developed the assessment and tutoring initiative to help kids ages 3-8 improve their skills. Reading ability, writing, and executive function skills like focus and self-control get a boost in the program.
Growing Readers is designed as 10 half-hour, one-on-one sessions for the child and parent to work together.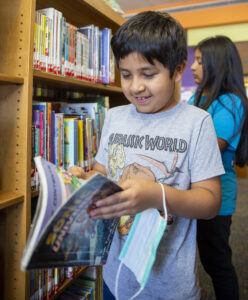 The program launched in March 2022 to help meet the library's strategic goal of making sure every child is ready to read by Grade Three.
Sonya saw the need clearly as the community emerged from the pandemic.
"COVID left a lot of children behind. With the teacher shortage, there are just more children struggling to read, and schools have fewer resources," she says.
Since its launch, Growing Readers has helped every child in the program reach their reading goals.
Sonya says parent buy-in and support are keys to the program's early returns.
"My intent was to teach children to read," she says. "But what I found was parents who aren't sure how to support their struggling readers."
Gabriella says Sonya assured her Leo just needed a confidence boost in his reading skills.
"I was concerned that he might need to be checked by his doctor to see if there was something more going on," Gabriella says. "… The little bit of time she spent with him helped him gain confidence and think 'I can read this.'"
Sonya says, "Leo made the fastest progress of any kid I've ever watched learn to read."
Parent participation in the days following each session makes success possible, she says.
"I see them for 30 minutes. Parents do the work all week," says Sonya.
According to Gabriella, Sonya sent Leo with library books after each session to read on his own, which helped as well. He was also given words to practice at home each week.
After a couple of months, Leo's reading improved to his grade level. He is now thriving in third grade, Gabriella says.
"I've seen a lot of improvement," she says.
Gabriella's message to other parents of struggling readers is simply reach out and get the one-on-one help a child needs.
"It's clear as day that it works," she says. "Hats off to the library for getting Sonya. She's an amazing teacher (I had) growing up. I like that we have teachers that are still willing to put in the effort and be hands-on to help kids."
To see available time slots or join the waiting list for Growing Readers, visit MyEPL.org/growingreaders.