Renovated Osolo Branch gets rave reviews
Visitors admire the bright, vaulted ceiling of the Osolo Branch as they walk through the door. Familiar staff greet them and hear variations of the same phrases.
"It's beautiful," and "I'm so glad you're back."
The renovations of Elkhart Public Library's neighborhood branches have been long awaited. Several of the buildings went 30 or more years without substantial updates.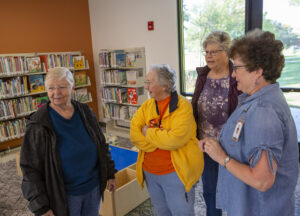 Osolo, the third refreshed building, was under construction for 11 months. Pierre Moran, the final destination for contractors, is on track to finish soon before the task of moving all the furniture and library materials back in begins.
The break from familiar routines and conveniences has been worth the wait. People coming to the branches see bright colors, big windows, and more comfortable and welcoming spaces.
"I missed all my library friends," Ginny Russell says about the Osolo staff. "But there's more room for people to browse and read."
She says she took the opportunity to visit other EPL locations, but there's no place like home.
"I love it being in my neighborhood," Russell says.
Marty Halp, a first-time visitor to the Osolo Branch, says she was using the Downtown library after moving here from Florida last year. She says she's excited to have a location nearer to her home on Elkhart's northeast side.
"It's so convenient," she says.
Longtime library user Marilyn Eich toured the renovated branch with friends and says the wait for construction to finish was worth it.
"It is so welcoming," says Marilyn. "The lighting and ambiance are great."
The addition of rooms for meetings and studying has been a big plus for branch visitors.
"I'm excited to have the meeting rooms," Karen Carter says. "It will be nice to have a space for the small group I meet with."
As the project races to the finish, the neighborhood branches are set to grow and serve their communities for another 30-plus years.
For the latest updates on Pierre Moran's construction timetable, visit MyEPL.org/branches.