Janice Dean served Elkhart in schools and the library
Janice Dean, the longest-serving member of the Elkhart Public Library Board of Trustees and a longtime teacher at Elkhart Memorial High School, passed away Thursday, June 22, 2023. She spent her career fostering knowledge and curiosity in others.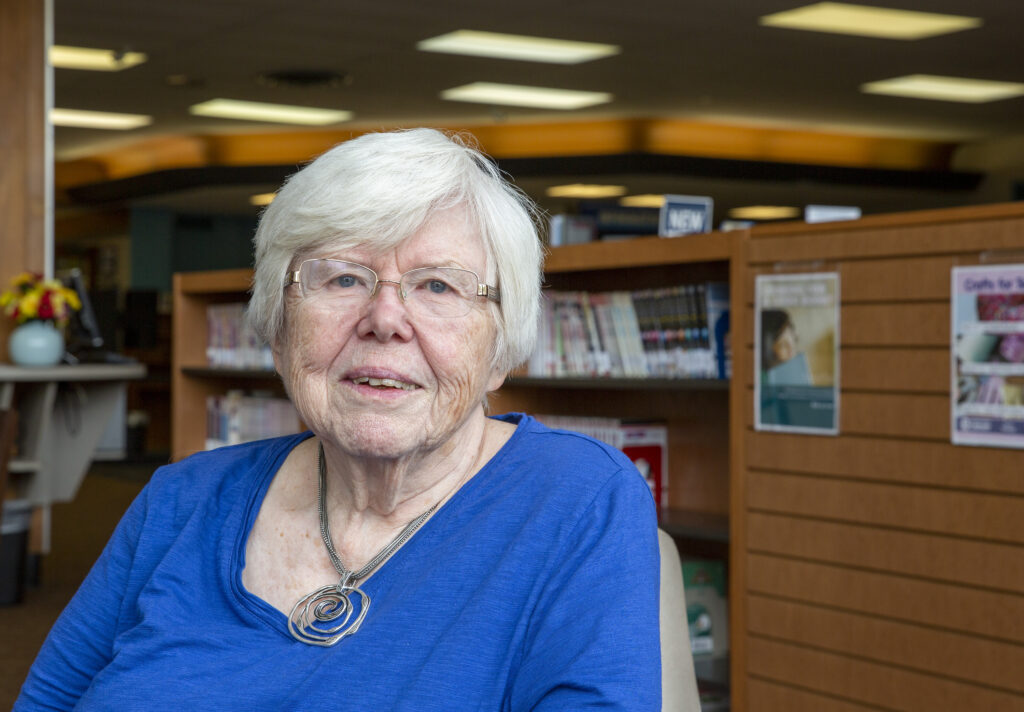 Janice joined the Elkhart Public Library board of trustees after she retired from teaching at the former Elkhart Memorial High School in 2001.
"I had some friends when I retired from Elkhart Community Schools that said I ought to have something to do," Janice said upon retirement in 2019. "There was a vacancy (on the library board) because somebody had to quit during their term."
She served 18 years, including 13 years as board president. She was the longest-serving board member in the library's history.
Janie spent her career at Memorial teaching English and journalism, as well as serving as the advisor for the school magazine and many years overseeing the yearbook. That dedication to truth, curiosity and literacy made her an excellent fit for the mission of EPL.
"I believe very much in the library in the community. It's one of the ways in which we enable people to have more enjoyable, productive lives, regardless of their income level," she said.
"You want it to be prominent in the community so everyone knows where it is, everybody knows how to use it. I see it as an extension of my whole life in education."
When she took her seat on the board in 2001, the internet just was beginning to explode into the mainstream. Janice said much of her time was spent managing the transition of the library from what it had always been – a place for books – to a community center with a diverse and broad base of entertainment and knowledge mediums.
"It was mostly transitioning the library to people that were looking at more than just books," Janice said. "We were talking about 'the library is more than just books' and that was kind of the slogan at that time. I'm pleased that we were looking forward instead of thinking about maintaining the past."
During her tenure, the board oversaw a major renovation project to update and change the front entrance of the building to the corner of High and Second streets.
"I think it really helped it to be a welcoming place," she said.
Janice deflected praise, mentioning the collaborative effort of other board members, library directors and administration.
"We've had some good contributing members over the years, Renee' Cocanower, Scott Troeger, Barbara Anderson, Stu Baskin, Lavar Johnson," she said. "I'm grateful for the board members who would use input from staff and the public to keep the library moving into the future."
The biggest challenge – just like any organization – was working with the budget, Janice said.
"I don't think we ever felt like we were frightened by it, as much as we felt like, 'How do we make this work?'" she said.
Janice was always quick to point out the support and leadership of the library directors helped alleviate those concerns and restrictions.
"I'm very pleased we've had directors that have navigated all of the budget restrictions," Janice said. "They've managed funds and studied all that they could possibly do to make it work."
Reflecting on her tenure, Janice singled out the hiring of the current director, Lisa Guedea Carreño, as one of the biggest accomplishments during her time on the board.
"Her understanding of community dynamics and her background in business and academic libraries has made her uniquely qualified to lead the library into its new demands," said Janice.
Guedea Carreño says Janice's service to the library was wonderful.
"She was always been available as a sounding board for issues and ideas, and she asked important (oftentimes tough) questions to help me see and appreciate different perspectives," she says. "I will miss her gentle presence, her insights about work and life, her formidable editing skills, and her unwavering commitment to do what is best for the library."
Janice remained confident EPL will continue to thrive in the future with a board that has a lot of new faces and voices on it leading it into the future.
"It's going to be interesting to see how they see everything, they're going to have new ideas, and I think that's all very good," she said at the time.
EPL honored Janice by naming of one of the new meeting rooms at the renovated Cleveland Branch after her last year.
Janice continued to serve as a mentor to students, be an active member of the Four Arts Club, and spent time with her four children, nine grandchildren and four great-grandchildren.