Library roots families to heritage and grows futures
This story first appeared in our Explora magazine. It is republished here in English and Spanish.
Staying connected to their culture. A place for their families to go.  
Elkhart Public Library offers both.
Wendy Sonora is passing on a love of the library to her two sons.
She first came to the library in 2015 when she started taking college courses again.
"With two kids, I needed time alone," she says with a laugh. "And to do homework."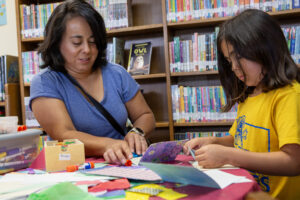 But what started as a place for study soon became a destination for her and sons, 12-year-old Ulises and 9-year-old Sebastian. Together, they came to the library to do activities, find entertainment, and more.
"I started using it and I did not know the resources they had," she says.
The cultural programs at the Pierre Moran Branch are especially important to her, she says.
"They do so many Hispanic activities," says Wendy.
Programs like Lotería and Día del Niños, as well as the celebration of Hispanic Heritage Month with dance groups, have been great additions to the library lineup, Wendy says.
"Those are related to my culture," she says. "I want to pass it to my children. It's amazing because in Mexico, we didn't have a library like this. It's a great resource."
Yuliana Rivera Arce says events like those are important to her, too.
"Lotería is a game I remember playing with my family," she says. "For the parents that are new immigrants, I know that they will feel welcome to come in and have a place to go. For me, as a first generation Mexican American, it helps keep me connected and maintain those roots."
Wendy and Yuliana both say they checkout bilingual books to help keep their children familiar with the Spanish language as they grow.
"My older son, he isn't interested in speaking Spanish," Wendy says. "I read to them so they can stay familiar with it."
Yuliana says that because her husband is English-speaking, it's difficult to speak a lot of Spanish at home. So, she uses books.
"I think (bilingual books) help to keep them in it," she says. "We check out bilingual books. Otherwise, I would have to be going out and buying bilingual books."
Yuliana says there are other benefits to being bilingual, too.
"Aside from heritage, I want my kids to have more opportunities in their professions," she says.
Upcoming programs at Pierre Moran include the bilingual Storytime on the second Thursday of the month, at 5 p.m., and the return of Noche de Lotería on Sept. 21 and Nov. 16 at 4:30 p.m.  
---
La biblioteca enraíza a las familias en su patrimonio y hace crecer su futuro 
Mantener el contacto con su cultura. Un lugar para sus familias.  
La Biblioteca Pública de Elkhart ofrece ambas cosas.
Wendy Sonora está transmitiendo el amor por la biblioteca a sus dos hijos.
Ella vino por primera vez a la biblioteca en 2015 cuando comenzó a tomar cursos universitarios de nuevo.
"Con dos niños, necesitaba tiempo a solas", dice riendo. "Y para hacer los deberes".
Pero lo que empezó como un lugar para estudiar pronto se convirtió en un destino para ella y sus hijos, Ulises, de 12 años, y Sebastián, de 9. Juntos, acudían a la biblioteca para hacer actividades, encontrar entretenimiento y mucho más.
"Empecé a utilizarla y no sabía los recursos que tenían", dice.
Los programas culturales de la sucursal Pierre Moran son especialmente importantes para ella.
"Hacen muchas actividades hispanas", dice Wendy.
Programas como Lotería y Día del Niño, así como la celebración del Mes de la Herencia Hispana con grupos de baile, han sido grandes adiciones a la programación de la biblioteca, dice Wendy.
"Están relacionados con mi cultura", dice. "Quiero transmitírselo a mis hijos. Es increíble porque en México no teníamos una biblioteca como ésta. Es un gran recurso".
Yuliana Rivera Arce dice que eventos como éste también son importantes para ella.
"La lotería es un juego que recuerdo jugar con mi familia", dice. "Para los padres que son nuevos inmigrantes, sé que se sentirán bienvenidos a venir y tener un lugar donde ir. Para mí, como mexicana estadounidense de primera generación, me ayuda a mantenerme conectada y a conservar esas raíces."
Wendy y Yuliana dicen que compran libros bilingües para que sus hijos se familiaricen con el español a medida que crecen.
"A mi hijo mayor no le interesa hablar español", dice Wendy. "Les leo para que se familiaricen con él".
Yuliana dice que, como su marido es angloparlante, es difícil hablar mucho español en casa. Así que recurre a los libros.
"Creo que (los libros bilingües) ayudan a mantenerlos en él", dice. "Sacamos libros bilingües. Si no, tendría que salir a comprar libros bilingües".
Yuliana dice que ser bilingüe también tiene otros beneficios.
"Aparte de la herencia, quiero que mis hijos tengan más oportunidades en sus profesiones", dice.
Los próximos programas de Pierre Moran incluyen la hora del cuento bilingüe el segundo jueves de cada mes, a partir de septiembre a las 7.00 p.m., y el regreso de la Noche de Lotería el 21 de septiembre y el 16 de noviembre a las 4.30 p.m.