Page finds success at EPL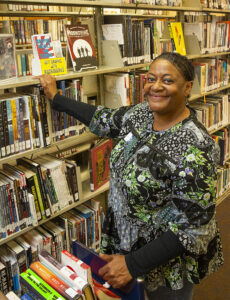 Theresa Lobley has been a page at Elkhart Public Library for nearly a year, but her journey to get here wasn't always easy.
Lobley graduated from Church Community Services's Soup of Success program last year, a 20-week program aimed at helping women overcome obstacles and achieve goals such as career help.
Lobley relied on the skills she learned in the program to get the job at EPL.
"What Soup of Success did for me was it helped me get back in contact with myself, to strengthen my strengths and overcome my weaknesses," Lobley said.
Lobley spent time out of the workforce and bounced around, struggling to find permanent employment. She worked seasonal and part time jobs but wasn't finding the success she wanted.
The adjustment wasn't easy, she says.
I had to learn how to integrate into the employment system here," she said. "I had to relearn how to actively work with my coworkers."
She also had to learn technology.
"Coming from working in the 1980s and 1990s to how different it is now," she said. "(But) I'm never too old, I'm like that fine wine, I just get better."
She credits Soup of Success with helping make that adjustment and instilling the confidence to succeed.
"It helped to give me self-worth and self-value," Lobley said.
She said she enjoys working as a page because she likes organizing things, as well as being on her feet.
"I like to move, I like being active," she said.
When she's not at work, Lobley loves to cook for her friends and family.
"I be throwing down in the kitchen," Lobley said, laughing. "A hot meal soothes the soul."