Summer readers discover fun and prizes with challenge
Making reading fun. Building curiosity and creativity. Summer Reading Challenge keeps young readers engaged and carries that enthusiasm into the school year.  
By reading what they want, kids find new genres and rediscover a love of reading for fun.
Binti Seely, 14, says that she was in a reading slump, not wanting to read books aimed at a younger audience. She started the Summer Reading Challenge and discovered young adult books, reigniting her love of reading.
"I'm now in the middle of six different books," she says. "The Summer Reading Challenge and the library itself have been so great."
Eliza Weigert, 15 shares a similar experience.
"It changed my perspective on reading, I used to hate it. But now, I have a ton of books I'm reading," she says. "When I was a little girl I didn't read that much, it felt like homework, but now that I'm older, I get why reading is an enjoyable thing."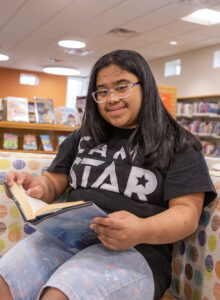 She enjoys fantasy and mystery books and even began writing her own fiction stories.
"It inspires me to be more creative, to see what other authors use in their writing, I see their style and how they use language," she says.
It's not just teens, either. Parents say they see the difference in their kids, too.
"I've seen my kids' love of reading grow in leaps and bounds," says Naomi Sterling, a mother of three Summer Reading participants.
Naomi says her middle daughter, Anna, 8, saw a big improvement in her reading skills over the summer and now really loves it.
"Just seeing her having a passion for reading," Naomi says. "She is sad when a book series ends. She's reading on her own, she'll read to me now, whereas she used to struggle and get frustrated."
She also says that her kids, Josiah, 2 and Faith, 13, in addition to Anna, enter the art contest and enjoy earning rewards like free pretzels and popcorn.
"It's nice to be able go to the local businesses," she says.
For Anastasia Glassburn, a mom of six, the Beanstack app makes tracking easier, and makes for a fun competition between the siblings.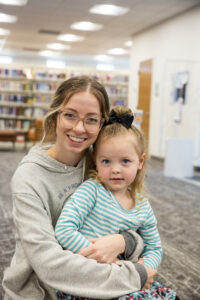 "My kids like to track their progress on the app and the badges and prizes motive them to keep going," says Anastasia. "They tend to get a little competitive with it as well."
The prizes incentivize kids but also get the whole family out of the house.
"Having a large family often makes outings expensive, so it is nice to see (the kids) enjoy the benefits of their merit," Anastasia says.
When Peyton Blodgett, moved to the area with her young family last year, it meant adjusting to a new community. She started 1,000 Books Before Kindergarten for her 3-year-old and also counted it toward the Summer Reading Challenge. 
"Some of the prizes were passes for Ox Bow County Park," she said. "It helped us discover parts of Elkhart that I'm not sure we would've found on our own."
For more on this year's prizes or to set up a Beanstack account, click here.