Summer reading creates enthusiastic readers
Amber Johnson says before the Summer Reading Challenge, getting her kids to read was a struggle.
Winning has a way of changing mindsets, though.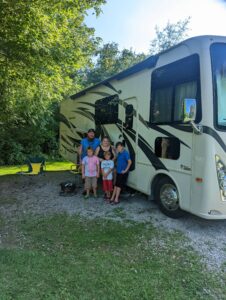 In July 2022, the family became grand prize winners of the Summer Reading Challenge presented by Ranger Distribution Inc. and the Community Foundation of Elkhart County. Alachi, Amber's son, wrote and submitted the winning book review in the contest.  
Alachi says he resisted reading. It wasn't something he liked to do. As he hoisted the oversized check with his name printed on it, he basked in the glow of his accomplishments.
"I was reading for fun," he says now.
Alachi and his family won the all-inclusive RV camping experience at Potato Creek State Park. All of Alachi's reading paid off in an experience he and his family won't forget.
"We had a blast, for sure," Amber says. She says the family fished, hiked, rented boats, swam, and more during their stay.
The prize from Elkhart Public Library was presented in partnership with Acts of Service, the volunteer initiative of the Community Foundation, and M6 Rentals of Fort Wayne.
Amber said the library's Beanstack app made the process simple and encouraged the kids to keep reading. Logging each day was easy, and the kids earned badges and rewards along the way.
"It can be a challenge, to say the least, keeping them reading all summer long, but I keep at it," Amber says. "It was absolutely easy to read with Elkhart Public Library. We used the Beanstack app that made it super easy. They were able to see how they were doing."
She went on to say that the enthusiasm for reading Alachi gained over the summer is carrying over into the school year.
"(Summer Reading) is a beneficial program," says Amber. "Now that school's back, he has to read 20 minutes a day and that's no longer a fight."