Summer Reading pays off with a shopping spree
How did you spend your summer? Neviah Santiago went from reading books to picking out a new bike and more.
"I've never won anything before," she says. "I can't believe this is real."
The 10-year-old is the winner of the 2023 Summer Reading Challenge grand prize, a shopping spree in the toy department at the new Meijer in Elkhart.
One of Neviah's 10 book reviews was pulled at random, out of 1,244 total submitted from kids throughout this year's challenge.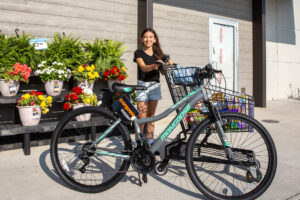 While she enjoyed collecting rewards along the way as she filled out her gameboard, she says she didn't expect to win one of the grand prizes.
"I was trying not to get my hopes up for a big prize, but I guess that paid off," she says.
Neviah excitedly shopped through Meijer just hours after the prize announcement, picking out a bike, Squishmallows, bracelet-making kits, a sand art kit, clothes and more.
Rachel, Neviah's mom, says the family enjoys that the Summer Reading Challenge keeps her kids excited to read outside of the school year.
"I really liked the way it was organized," she says. "You could earn smaller rewards throughout the summer. I like that my kids have something to motivate them to read. It's definitely beneficial."
Rachel says using audiobooks and encouraging Neviah and her sister, Neharah, to pick up a book whenever they were bored, kept them going through summer vacation.
"Sometimes, you know kids need to be pushed a little bit and reminded," she says. "Audiobooks have been great at night."
Neviah says her favorite books of the summer were the Beverly Cleary classics, "Ramona Forever" and "Ribsy." She logged reading for all 60 days of the challenge, too.
"I'm thankful that the library does this," Rachel says.