Filmmakers find their setting at the library
Cameras, lights, wires and microphones fill the lounge area at the Dunlap Branch one early summer morning.
A film crew for Siemens Healthineers prepares to record their latest interview on the docuseries they're working on.
Filming in the bright, open public space of the library branch – and not a cold, impersonal studio – made perfect sense for this project, according to Connie Mardis, head of global marketing education for point of care testing for Siemens.
The subject of the film is Helen Free, the Elkhart scientist who invented dip-and-read urine testing strips. The product was groundbreaking in the medical field.
An employee of Miles Laboratories, Helen came to Elkhart Public Library frequently throughout her life, utilizing both the downtown library and the Dunlap Branch.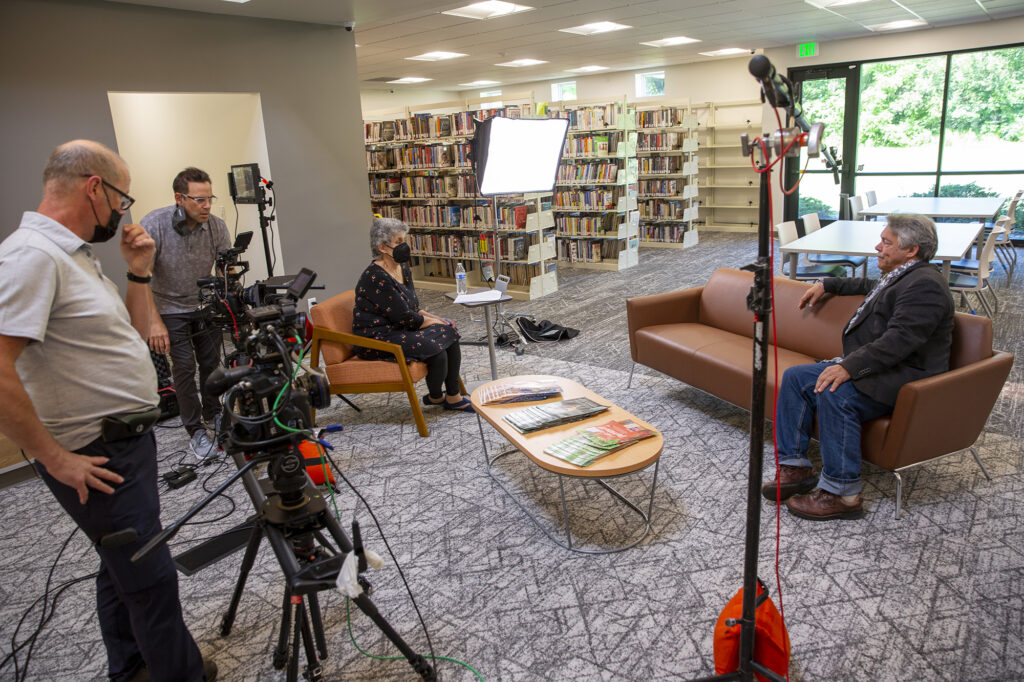 Connie interviewed one of Helen's sons, Jake, for the documentary. The interior of the recently renovated Dunlap Branch was the backdrop.
"I thought what better place to interview Jake, than in the library where she loved to come," Connie says. "I thought the library, given Helen's love for learning, was the perfect location."
She also visited the Downtown library to research articles about Al and Helen for the project.
"(Librarians) helped me look up all of the articles about the Frees that had been in the South Bend Tribune and Elkhart Truth," she says. "I was literally able to delegate all of that research for a very nominal fee."
Helen's invention, Connie says, has helped "billions of people" around the world manage everything from diabetes to a urinary tract infection.
"The docuseries is about point-of-care testing and Elkhart's place in that story," Connie says.
"When I found out that Helen was still coming back to her local library, even after she retired, it made so much sense to me to come back here to film," Connie says.
Elkhart Public Library has a variety of multipurpose spaces at all locations that can be used for collaborating, meeting, filming or just about any other business use. Custom options are available, too. Visit MyEPL.org/meetingrooms to get started.