Free books for home keep kids engaged and inspired
Dolly Parton's Imagination Library is now in our community. But parents also can use Elkhart Public Library in plenty of ways to build up the home bookshelf with free books. 
The best things about getting free books from Elkhart Public Library are, in no particular order:
• No fines
• No fees
• No due dates
• No returns
So, how can you get keepers for your kids?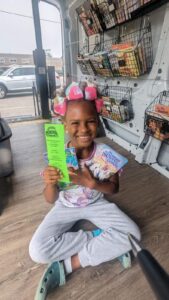 Book Bus
You just need to watch Facebook for the Book Bus schedule. Each year, the Bus heads to dozens of events – school open houses, block parties, and festivals – for kids to pick out a free book.
In 2023 alone, kids right here in Elkhart picked out more than 6,500 books to take home.
The Book Bus is powered by lots of generous folks in the community, along with thoughtful organizations like Crossroads United Way, the Community Foundation of Elkhart County, the Friends of Elkhart Public Library, service clubs, parent-teacher organizations, and more.
Read more about the history of the Book Bus and how you can get involved.
1,000 Books Before Kindergarten
When your child is born at Elkhart General Hospital, you get a starter kit for early learning. EPL includes a growth chart, helpful info, and two fun board books for the youngest readers to see and learn and enjoy.
Reading to kids is the best jump start you can give to ensure school success. Right behind sharing books? Building up a collection of books at home for kids to have easy access to reading.
In addition to the hospital bags, kids making their way through 1,000 Books Before Kindergarten get two more free books on the way to finishing the program. The hours spent reading those 1,000 Books are a key piece in the library's commitment to help every child read and succeed by Grade 3.
Summer Reading Challenge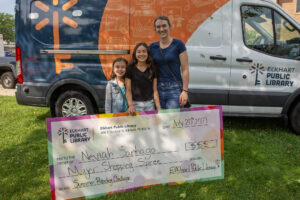 From May through July each year, kids get rewarded just by reading for fun. The Summer Reading Challenge, presented by Ranger Distribution Inc., is a cornerstone event for Elkhart Public Library.
Kids can earn prizes, get entered into drawings for big gifts, and – most importantly – collect free books along the way. The first goal is to read 21 days and to earn a book.
Last year, a record number of kids completed six weeks worth of reading in the summer. That huge accomplishment gets them ready to go back to school and keep learning.
Look for information every spring on MyEPL.org. You can download the Beanstack reading tracker app to get signed up.