Journey to 1,000 Books: An honest parent's approach
Editor's note: This is a series about one parent's approach to 1,000 Books Before Kindergarten with their toddler. This is part one, the other parts are linked below.
Part 2 can be found here
Part 3 can be found here
Part 4 can be found here
Part 5 can be found here
Part 6 can be found here
The first 100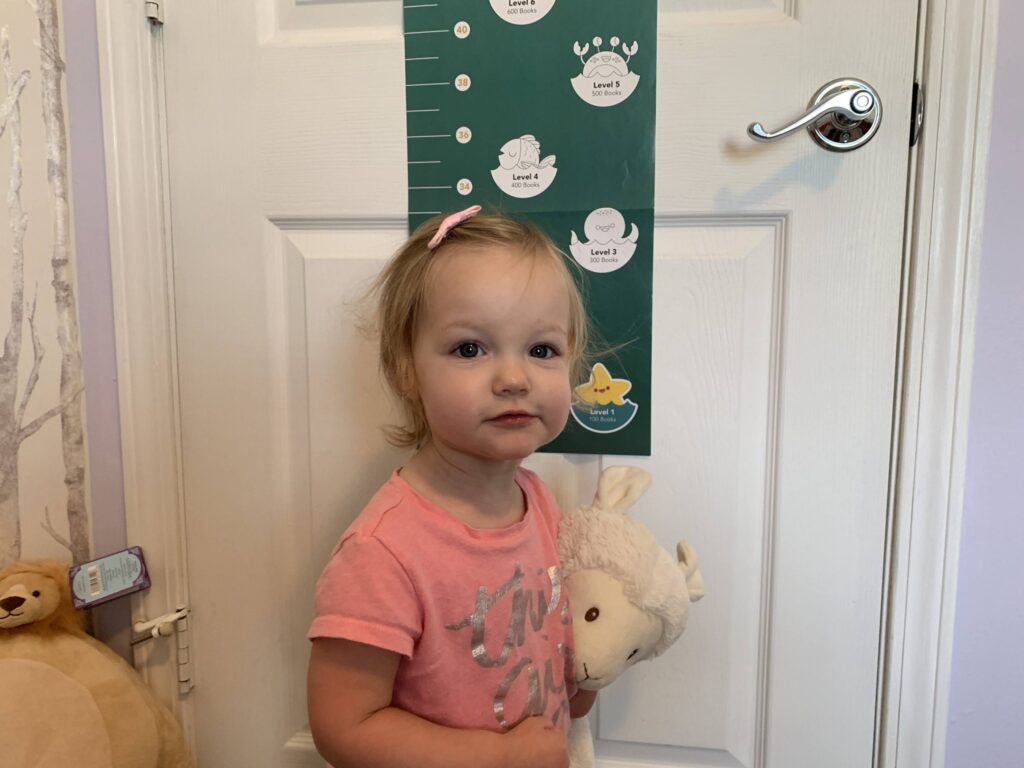 One thousand books seem like a lot when starting out, but with many things when you're raising a child, it's going faster than I thought.
Of course, I feel a different pull to successfully finish the program, since I am an employee of Elkhart Public Library. I am the communications manager for the marketing department. Basically, my professional task is to get people interested in programs like 1,000 Books Before Kindergarten, so I need to put my money where my mouth is and see what works with it and where the pain points are for parents.
Our daughter Holly was born in January 2020, our first child, so of course the gifts rolled in from friends and family and that included a large number of books. Books and books and books.
I had the 1,000 Books thing on my mind, but as I said before, it seemed daunting and frankly, unimportant, in those early days when I was just trying to sleep when I could. Plus, I was still wrapping my head around the idea I was responsible for another human being's life.
As we got our feet back under us (and a little sleep), it seemed like now was a time to start tracking our daily reading.
We read to Holly every night and as she's gotten older, she just loves to read. I mean, as much as an 18-month-old can love anything. Her attention span is still a work in progress.
She has her favorite books though and she will just march into her room, pull her favorites off the bookshelf and carry them up to Mom or Dad and plop down on our lap to have us read to her.
Obviously, understanding the importance of early literacy, I am delighted that she has taken an interest in reading, although we could sometimes go without reading "Brown Bear, Brown Bear What Do You See" for the 12th time that day.
But we signed up for 1,000 Books Before Kindergarten through the Beanstack app this spring and recently crossed the 100 books threshold. Here's what we've found so far. Hopefully, this can help other parents.
We logged every book that Holly has on her shelf. We knew we had read every book to her at least once, so this was an easy way to start. As one of us rocked her to sleep, the other would log the books into Beanstack. Now her entire library is in there and we can just scroll through the list and find the one we just read.
We generally count a book anytime we complete it but we don't worry about logging all five times she wants a certain book read over and over again (Hello, "This is Baby")
To go along with this, I've heard of some parents implementing a once-a-day rule; counting a book only once per day, which seems reasonable.
Don't hold yourself to counting every single book. It's easy to get obsessed with logging every book your child brings you, but after you do it for a while, you know you'll get to 1,000 eventually, so don't feel like it has to be EVERY book every time.
Turn on the app notifications: I get that it's annoying to have one more app send you notifications but it's good to get the reminders because I'll think "Oh, we did read today, I just forgot to log it" and then you can see the daily reading streaks and you'll really feel like you're rolling.